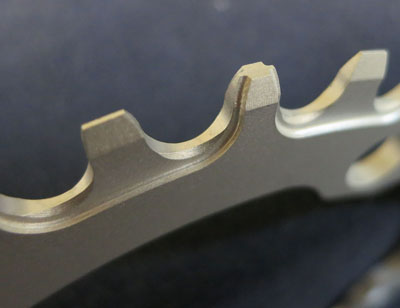 We're really excited to test out the new SRAM XX1 system that promises the virtual elimination of front chain drops on a 1×11 drivetrain with no chain guide up front. It sounds like it's too good to be true but the combination of a clutch drive "Type 2" rear derailleur that helps reduce chain slack and 4 sided chainring teeth reportedly keeps the chain from jumping the ring in virtually any condition.
XX1 isn't the cheapest component group out there though, and some folks might be interested in converting an existing 1×10 set up to a similar "dropless chain" design that doesn't require a chain guide up front. To enable just such a setup Wolftooth Components offers chainrings with the SRAM XX1 design in a standard 104 BCD bolt pattern so they can be placed on a conventional crankset (with the official XX1 set up you're stuck with the proprietary crankset because it has a unique BCD that won't allow you to swap chainrings with any aftermarket product, and conversely you can't stick the XX1 chainrings on other cranksets).
So now you can have an unofficial XX1 1×10 setup by buying a SRAM XO or X9 clutch drive Type 2 rear derailleur and a Wolftooth chainring. The rest of your drivetrain remains the same. Pretty cool.
We're placing a Wolftooth chainring order soon so if your interested in pursuing this set up let one of our full time mechanics know and we can add you to the order.  Cost is approx. $70 per chainring.
We'll post a follow up report on this set up after we have time to test it in the field. Happy riding until then.